Schedule an Online Tour
Visiting an online eCampus can be just as confusing as visiting a brick-and-mortar university campus. Let us give you a tour of our eCampus, learn about missional careers and how our programs prepare you for global challenges. Please review the information below so that we can help you make the most of your visit.
---
Our online visits are led by Admissions personnel and University Ambassadors who are looking forward to your visit with us. You will learn about careers serving in the mission of God through faith-based organizations and opportunities to serve people at points of need across the world. You will be introduced to some of our global faculty who live and work from six continents. Our tours are available on Tuesdays, Wednesdays, Thursdays, and Saturdays.  The university is closed on Sundays and US federal holidays.
Choose a Tour that Best Fits You
Missional University eCampus Map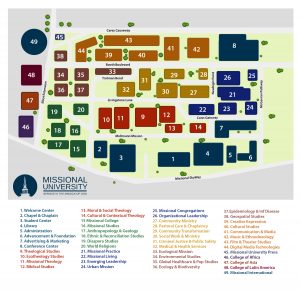 MU Welcome Center
Online Address:
Admissions Welcome Center
StudentCenter.Missional.University
Live Video Conference (sign in with guest access)
Hours (Eastern Time Zone):
By Appointment
9:00 am to 5 pm, Tue-Thurs, Sat
Schedule a Live Online Tour
Send email to: admissions@missional.university

Live Video Conference Options:
Admissions Welcome Center (sign in with guest access)
Google Meet
Phone:
+1-803-618-1328 ext 100
Email:
admissions@missional.university